Reviewed 13 March 2014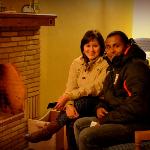 Dhruviee
New Delhi, India
our 3 days in solitude @ Soulitude in the Himalayas – was an experience worth experiencing. The relentless commitment of it's owner Manish, the efficient management of the entire property by it's manager Prithviraj and the hard work of each and every person related to this place makes it a wonderful place to be.
If you are someone, who is looking for a place away from the hustle and bustle of the familiar tourist destinations, if you want to spend some lone time with your partner, if you have a photographic bug in you, and if you are someone who loves and enjoys the serenity and the tranquility of Nature, – then this is THE PLACE for you.
Great Food, Great and customized service, Awesome surroundings, artistically done rooms – Soulitude is a MUST VISIT PLACE .
Stayed March 2014 , travelled as a couple