The Valley of Flowers National Park is the second core zone of the Nanda Devi Biosphere Reserve. The credit for the discovery of the Valley of Flowers goes to the British mountaineers Franks S. Smythe and R.L. Holdsworth who incidentally reached this valley after a successful expedition of Mount Kamet in 1931.
Nestled in the west Himalayan region, Valley of Flowers covers a vast expanse of 87.50 sq kms with myriad alpine flowers. Valley of Flowers is situated in Bhyundar Valley at an elevation
of 3,658 mts above sea level. You will encounter numerous cascading waterfalls on the route to Valley of Flowers.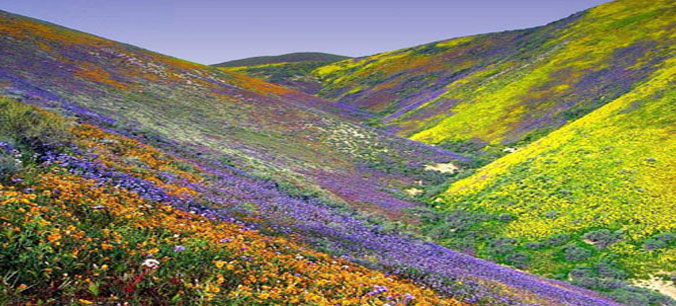 Opening Date of Valley of Flowers: 1 June 2015
Note: The Valley of Flowers was closed for 2 years after the flash floods which destroyed major bridges to reach the valley. Now they have been constructed and tourists can easily reach the Valley.
The region of Valley of Flowers is rich in varied flora and fauna. The valley of flowers was declared as the National Park of India in the year 1982 and it is now a UNESCO world heritage site. The virgin beauty of this mystical valley has always lured botanists, nature lovers and adventure lovers.
Ghangaria is the last human habitation centre on the way to Valley of Flowers. It is a scenic hamlet, situated 13 kms from Govindghat at a height of 3046 mts above the sea level. Valley of Flowers lies in Chamoli district of Uttarakhand state offering diversified beauty of nature. The region remains completely covered with thick blankets of snow during winters and with blooming flowers from June to October. The Valley of Flowers is the home of over 500 species of wild flowers of unique design and colours.
Valley of Flowers is about 327 km. from Soulitude in the Himalayas.
Content Credits: www.euttaranchal.com