The hills are no longer just a getaway. We find out how people are making it possible to live and manage a career out of these areas. Multiple excel spreadsheets open, fingers taut on the keyboard in readiness and eyes darting from diary notes to the computer screen.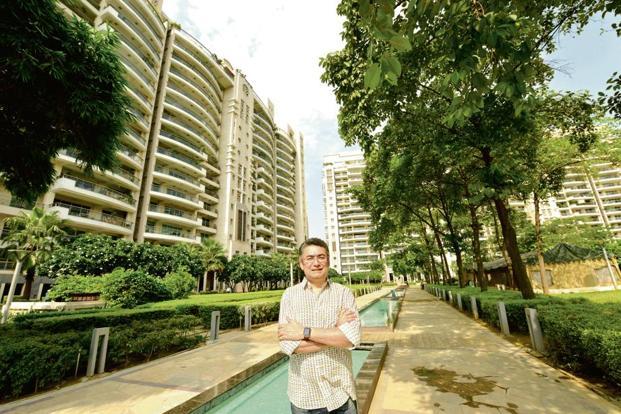 Manish Chandra operates between Gurugram and Ramgarh in Uttarakhand. Photo: Ramesh Pathania/Mint
Multiple excel spreadsheets open, fingers taut on the keyboard in readiness and eyes darting from diary notes to the computer screen. Our Monday hours rushed swiftly between brainstorming, playing devil's advocate to each other's ideas and being glued to case studies on the internet. It's only when the daylight muted, and the village homes in the valley started twinkling in the dark folds of the mountains that we finally called it a day. And what a productive day it had been. Finding ourselves at a suitable take off point for a new business, my partner and I decided to work out of the hills in August. The idea was to get away from Delhi's pressing routine and bustle, making every hour count.
As a writer-filmmaker duo, the steering away from the content creation realm to an online aggregation space, we often feel the need for an alternative space to ignite new thoughts. Delhi's humidity and monotonous thrum hasn't been helpful in bolstering the creative process, drafting the minimum viable products or drumming out numbers. So earlier in the year, we looked for a place in the hills, which would be internet-connected, reasonably priced and would help us un-straddle our lives with daily chores and existing work environments. We narrowed down on Banlekhi, a small lodge in Kumaon where we stayed for eight days.
Not just a getaway
The idea of partial migration to the hills has crossed the minds of many entrepreneurs and individual contributors to businesses that are homed in big cities.
Co-founders of Gurgaon based tech start-up, entrepreneurs Abhideep Singh and Satya Puniani set out to Himachal Pradesh and Uttarakhand in 2016 to explore an alternative pad. They split up to find the most suitable off-the-grid locations, and scouted places like Jibhi, Kotkhai in the Tirthan Valley and Sonapani in Kumaon. Singh stayed put in Jibhi for 20 days. His time was filled with hikes, trips to the river and extremely productive but shorter hours of work. "The idea was not to find a weekend getaway to recharge but to look at a legit working pad. Since my work doesn't need me to stay in touch with clients on a daily basis, choppy connectivity was not a big impediment. Offline preparedness is something I had already accounted for, so there was little dissonance," he says.
Anyone who wants to try out this remote working situation has only one question in mind. Will there be stable internet and mobile connectivity? "The only hack to that is to have multiple backup SIM Cards and dongles. In some places Jio works best, while some locations are best serviced by BSNL," says Singh. The upside of an undistracted work atmosphere was so beneficial that he is currently thinking of going back to the hills for another "work-vacation".
Workcation
The term "work-vacation" might be an oxymoron but has developed a new breed of professionals, who scoop out time for a large part of the month to address their work and self development needs in a remote location. They are able to churn out work much faster and with lucidity, while not burning a hole in the pocket.
While employed with Bengaluru-based media technology platform, YourStory, Jubin Mehta's short tryst with Dharamshala graduated into a full-time address in 2013. "Of course, Dharamshala is relatively better internet equipped, but couldn't be compared to the fast speed of a metro," says Mehta. "I did shuttle between Bengaluru and Dharamshala for two months each so as to give ample face-time to my team and then retreat to the crisp and clean air of the hills." He now lives in the hills.
Akanksha Bumb and Jeet Sachdeva, a hospitality consultant and an HR professional, chalked out their journey to the hills a bit differently. Their move was no whimsical one, but a function of slow experiments over two years, by spending a month or more in places like Kutch, Goa, Kodaikanal, Coorg and Tirthan Valley before zeroing in on Bhimtal, Uttarakhand. Bumb currently holds half the reins of F5Escapes, a Bengaluru-based experiential travel company. "The awards of working out of Bhimtal far outweigh the challenges. Even though the extreme weather, power cuts and getting used to the slow pace of life takes some time, the decision has enriched the business. Work-life balance apart, F5 has a legitimate north India base. I can lead trips off Delhi with ease and have a finer understanding of how to curate the best mountain trips for clients," she says.
Impact on clients
One would think that frequently working out of the hills is bound to impact one's availability in the city for meetings and re-calibrating the earnings as a trade off for time. Not for Gurugram-based Manish Chandra.
Chandra jumped on the bandwagon of having an office in the mountains, after he stepped into the financial assets space in the year 2000. As a founder of a start-up, he had the flexibility of working out of Ramgarh, Uttarakhand. "Having ditched the corporate rat-race, I was free to choose my office timings and environment. What better than to have a place that inspired thoughtfulness?" says Chandra.
Ramgarh became his go-to location for not only personal work hours, but also group meetings and brainstorming sessions. "Rather than meeting clients for two hours, I had two whole days to have a better quality of interaction with them. It almost became a working model for me. Long meetings? Off to the hills."
He skirted the connectivity issue with inventiveness. While Ramgarh was sans phone signal, he managed to set up a custom wireless internet service that was fuelled with solar energy. While there was no phone connectivity, he could conference via video with ease. Chandra's current tech initiatives in the hospitality segment are run out of both Delhi and his alternative offices in the hills.
Back at conventional establishments, offsite retreats are the only times when employees are whisked off to a glitzy resort not too far from the city. Most of the times these are mere fun getaways that masquerade as target setting meetings or financial assessments of the year gone by. Going by the meaningful experience of people, who frequently operate from enviable offices from the hills, this could be a productive addition to their calendars as well. I know we are already scouting the hills again for a third office at the edge of a valley.
…………………………………………………………………………………………………………………………………
Click here to read the original post on LIVEMINT.com