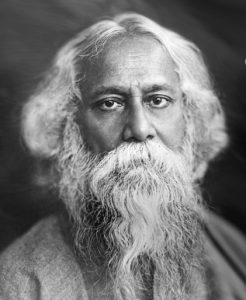 There is a deep connection between Poetry and Ramgarh! Gurudev Rabindranath Tagore, credited with the special distinction of having written not one, but two National Anthems, 'Jana Gana Mana for us and Aamar Shonar Bangla for our neighbours, Bangaldesh, is the only Indian to receive the Nobel Prize for Literature! He received this honour for his "Song Offerings" which was his own english translations of 53 poems from his original Bengali work, better known as Geetanjali. And you know what? A part of his work, Geetanjali was written by Rabindranath Tagore, right here in Ramgarh itself!! How deeply affected Rabindranth Tagore was with the serene beauty and the quietude of this area is best summed up in the words of the poet himself, "The hills all around seem to me like an emerald vessel brimming over with peace and sunshine. The solitude is like a flower spreading its petal of beauty and keeping its honey of wisdom at the core or its heart." What a coincidence that the word 'solitude' used by the great poet himself in the above lines referring to ambience of Ramgarh, should have strangely found its way into 'Soulitude'!
In case this inspires you enough, and you have the stamina to go with it, you could spend half a day exploring the Tagore Top, where it is believed Radindranath Tagore stayed when he first visited Ramgarh in 1903. Up on a hilltop, more than a century later, all that is left are a few flat stones around an old oak tree, the ruins of a dilapidated fireplace, and stones from an old house. On his second visit in 1914, Tagore stayed in a cottage, aptly called the Writer's Bungalow which is now a Neemrana property.
After the trek, you could also visit the Writers Bungalow and refresh yourself with a cup of tea on their premises. In all likelihood, the trek to Tagore Top will be a tiring so you may want to hire a cab from the Ramgarh Market to take you up to the Writer's Bungalow. In case you do plan to visit the Neemrana property, it may be a good idea to check with them a day before.
A very scenic walk though the forest, which starts from behind the Ramgarh Market, the way to Tagore Top is for the most part an uphill trek. On the way you will come across a government apple orchard. Recently a path has been built through the orchard to reach Tagore Top. Say hi to the clouds and the winds as you wind your way up the hill…and literally reach the top!
And to gear yourself up for this trek, and to create the fitting mood for it, would it not be a good idea to take a peek into the heart and mind of this Literary Genius. And what better way than to read his most loved short story, written about a sensitive bond that was formed between a little girl and a hurly burly man, who belonged to the mountains, much as these! Yes! Indeed the Kabulliwallah!
Distance: 3.5 km uphill trek from the Ramgarh Market. The ideal way to get to the trekking point behind the Ramgarh Market would be to hire a taxi. After completing the trek too, it would be a good idea to catch a cab back to Soulitude or in case you would like to see the Writers Bungalow too.
Time: Maximum time for a trek up to Tagore top and back is approximately 2.5 hours, plus 30 min driving time to Ramgarh Market and back. Therefore the best time of day to undertake a 3-3.5 hour outing would be morning, post a slightly light and early breakfast so that one is back in time for Lunch.
Rating: Highly recommended. It is strenuous more because of the length of the trek. As the name suggests, it is mostly an uphill trek , though the incline is more gentle than the Devi Mandir trek. So long as one maintains a pace comfortable to one's self, and take rest now and then, this trek is doable by most. The return is much easier, and quicker as it is mostly down hill.
View this post on Instagram
This video was shot at Tagore Top, where it is believed Radindranath Tagore stayed when he first visited Ramgarh in 1903. Up on a hilltop, more than a century later, his admirers still come to see the remanents of his home and pay their respects to the Poet Laureate. Please turn up the volume to listen to a part of Geetanjali being recited by @yshobhawanders, founder of @rareindia. .
Tupur tapur
They trickle in
To form a stream
Of reverence to Thakur! .
Thakur is the original family name of Rabindranath Tagore. And 'Tupur-Tapur' means 'pitter-patter' in Bengali!
Cost: Rs 2,000 (+18% GST) per room (guide + tea)
Optional: Rs 700 (+18% GST) per person (lunch)