Reviewed 13 September 2015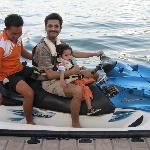 Abhishek_Dalmia
New Delhi, India
We were a group of seven friends, looking for a quiet place to spend some time, discussing life. We shortlisted a few places which were easily accessible from Delhi and would afford us some quiet time to ourselves. We shortlisted two places and while I am sure the other place would also be quite nice, we were glad we came here.
We took the Shatabdi, which takes about 5 hours to reach Rudrapur. There are some overnight train options as well to reach Kathgodam, but we preferred this option. We stayed the night at Rudrapur and drove up to Soulitude the next morning. It was a 2 hour drive. We were amazed to see the quality of Uttarakhand roads – almost comparable to Lutyens Delhi and this is no exaggeration!
It was monsoon season and boy were we glad we chose to come here at this time of the year. The clouds were flying low, there was mist everywhere. It was so incredibly romantic and everything looked just like God created it – fresh, green, untouched.
Despite the fact that it was drizzling, we were welcomed at the gate of the resort by the manager, who was incredibly warm and friendly. He took us to the lobby area. As we entered, we were blown away by the architecture of the place. It was nothing fancy. Very minimalistic but stunning in the treatment of spaces and the choice of colors. It was so soothing that mentally, we were able to immediately switch off from the work we had left behind in Delhi.
What a perfect setting for the agenda we had come here to accomplish! The owner Manish Chandra, alongwith his architect, Sandeep Uppal, had successfully created heaven in the lap of nature. It is a very homely setting and each room is unique. If you have a choice, you won't know which room to pick. Each was distinctive, with its own unique charm.
After we settled in, we were hungry and came for lunch. Each dish was divine. It was just like home cooked food, only better. Not at all oily, just the right amount of spices and of course the big differentiator was that the vegetables were all fresh! What flavors! To top it all, we could tell everything was prepared with a lot of love. As if that wasn't enough, all of this was served with the legendary pahadi hospitality. Amazing warmth. Amazing service. This food and service quality stayed consistent through our stay.
One of the days, we decided to visit their other property by the river. And were we glad we made that decision. It had the same good food and great hospitality, but the setting was quite different from the property we were staying at.
All in all, we were so glad we came here and would highly recommend this place to everyone looking to spend a few days in solitude with their loved one/s.
Stayed August 2015, travelled with friends