Reviewed 7 March 2016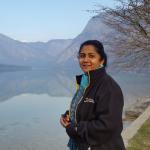 Sarayu K
Mumbai, India
My husband surprised me by bringing me to Soulitude on my birthday. Needless to say, I was completely swept off my feet – by this marvelous and astounding gesture. Soulitude is a stunning resort. We stayed for 3 days at Soulitude in the Himalayas and for 2 days at Soulitude by the Riverside.
Both of them are fantabulous. Everything one would possibly want was absolutely mind blowing – the location, the food, the decor and especially the people. The people in the hills are normally very nice and compassionate. The staff at Soulitude were not only nice and compassionate, but also very very courteous and very concerned about our well being. My husband had developed a severe backache and the staff set up a bed especially suitable for his situation. Each time we returned from an outing, one of the staff would be patiently waiting to hand us our room keys, saving us the short walk to the reception table. The chef, Sham Singh has magic in his fingers. He baked a wonderful cake to celebrate my birthday. His mushroom soup and dum aloo are to die for. Hats off to Manish Chandra (owner) and his manager Prithviraj Singh for the stupendous efforts in creating a jewel in the Himalayas.
Here is something that one should consider when visiting Soulitude. This is for people who want quietude and wish to relax away from the hustle bustle – who want to watch the sun rise and wash the Himalayas a spectacular golden orange, listen to the melody of a hundred birds in the morning, stare in awe at the flowers springing out from the branches, pick up stones that the streams have painstakingly smoothened over the eons, soak in the pristine beauty of nature and be in gratitude for the chance of being in a place as enthralling as this.
We will certainly visit here again and again.
Stayed February 2016, travelled as couple