Reviewed 15 June 2014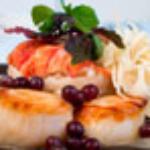 Ramneesh T
We wanted to spent our summer vacations this year away from crowded hill stations ( traveled with 2 kids ) & Tripadvisor again helped us zeroing on an awesome experience. Went with reviews & would say reviews & other words are less unless u experience in person. We spent 3 nights at Himalayas@Soulitude.
Himalayas- Excellent Hospitality; awesome weather.. though we couldn't see Himalayas in clouds but still enjoyed the cozy weather, excellent views , treks, Samosas at local Ramgarh. Mr Prithvi & staff goes to extent to make you comfortable
We spent at Nirvana & enjoyed the views. Treking up back after meals was bit tiresome with kids 😉
I think to enjoy Himalayas views; one should plan around Sept-Oct.. If we had got glimpse of mighty peaks would have been icing on the cake…
Areas of Improvements; not negatives 🙂 – Food. Continental/Chinese should be added. Continental dishes available were avg spl non veg… Muglai food was tasteful….
Also; some swings/activities for the kids would make kids engaged,
But doesn't stop me to rate the overall exp 5 Stars! Kudos Team Soulitude
Stayed May 2014, travelled with family