Let us go on a road trip to Kumaon. But first let us ponder a bit – What is better than a road trip? Well to start a road trip with strangers and end with friends. So that in nutshell friends summarizes my road trip to Kumaon for a week. It started with a simple message on twitter. If I would like to join on Road Trip to Kumaon? Now Kumaon is not your typical touristy area, the beauty of Kumaon lies in the fact that even with immense beauty, reasonable accessibility and magnificent view of mighty Himalayan peaks you just need to drive for a few hours after leaving plains and you are in an India that has still some Old World Charm and fresh Himalayan air. The trip started with 3 cars and 8 strangers but ended with 8 friends, as the winding roads forged bonds of bonhomie strengthened over endless cups of chai , and Bollywood songs while capturing the breathtaking beauty of Kumaon Himalayas in our cameras.
Himalayan Photo Odyssey: desi Goes On a Road Trip To Kumaon Himalayas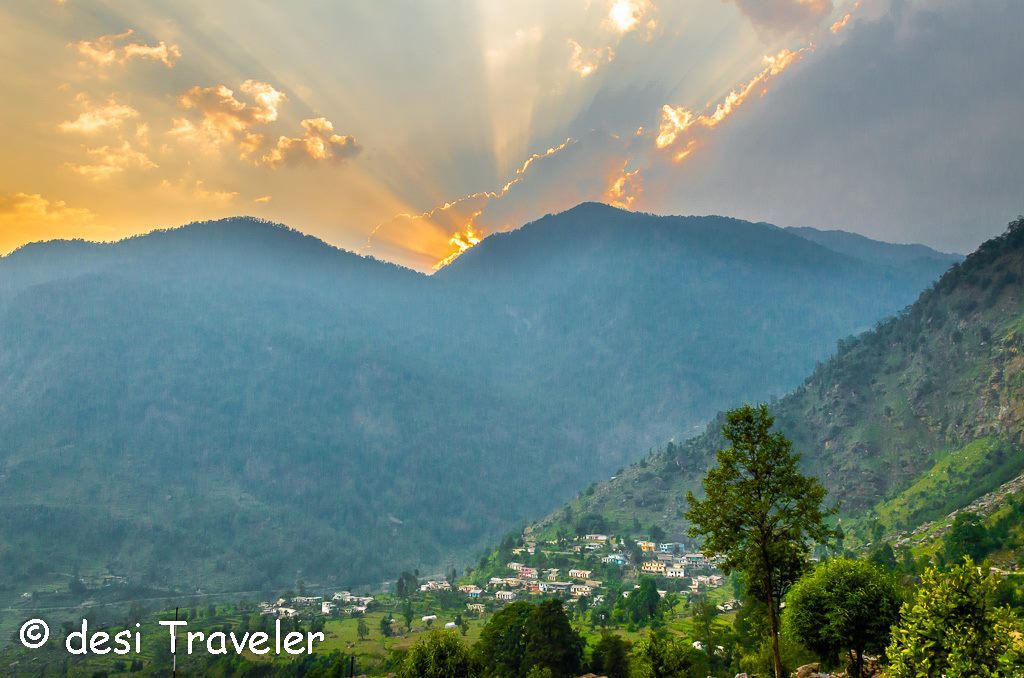 Beautiful view in Kumaon around Sunset
Our road trip was to visit some of the smaller towns in Kumaon that though on the path less taken had so much to offer that I want to go back once again asap. We visited Gagar near Ramgarh, Kasauni, Munsyari and Binsar in this road trip.
On hot summer morning we left the dust bowl of north Indian plains and dexterously competed with bullock carts, tractor trolleys and other forms of transport from middle India like Jugaad. But the moment we entered in Uttarakhand everything changed, the roads became wider, the potholes vanished, and we could see tar on the road, I almost cried at seeing some real road after many hours. Fortunately even in remotest of Uttarakhand Villages we visited we found decent to great roads and enjoyed our road trip on the serpentine roads of Kumaon region.
While I will write in detail about specific aspects of Kumaon in coming posts in this one let me give you some of my experiences in Kumaon that truly impressed me and I want to go back to Kumaon again. This post is about some of the observations on the roads in Kumaon.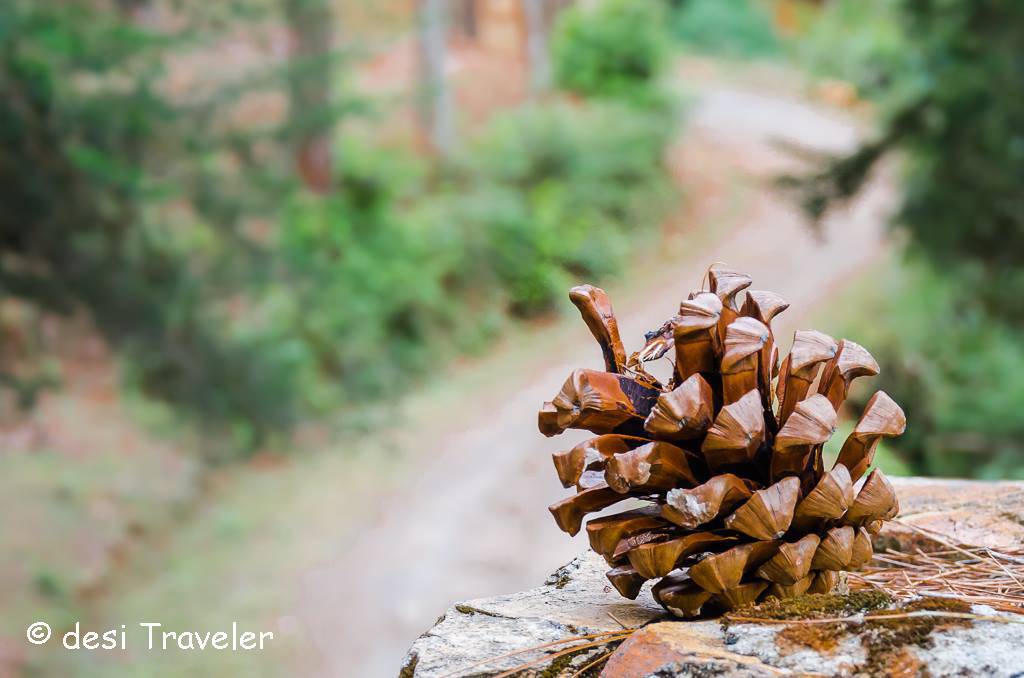 A Pine cone I found on the road less traveled
As we left industrial belt around Rudrapur behind and took a bypass towards Gagar for our first destination, one thing I noticed was that we have left the last traffic jam behind. The road towards Gagar has only locals and dedicated Himalayan lovers. As we reached our abode for the day the idyllic nest Solitude in Himalayas, it was love at first sight types.
Later during lunch I met Manish Chandra, the Owner of the Hotel , who refuses to be called a Hotel owner, for him Soulitude in Himalayas is his home away from home and we were all his guests. Indeed every moment we spent in the Soulitude in Himalayas we were made to feel we are visiting our cousins in Himalayas.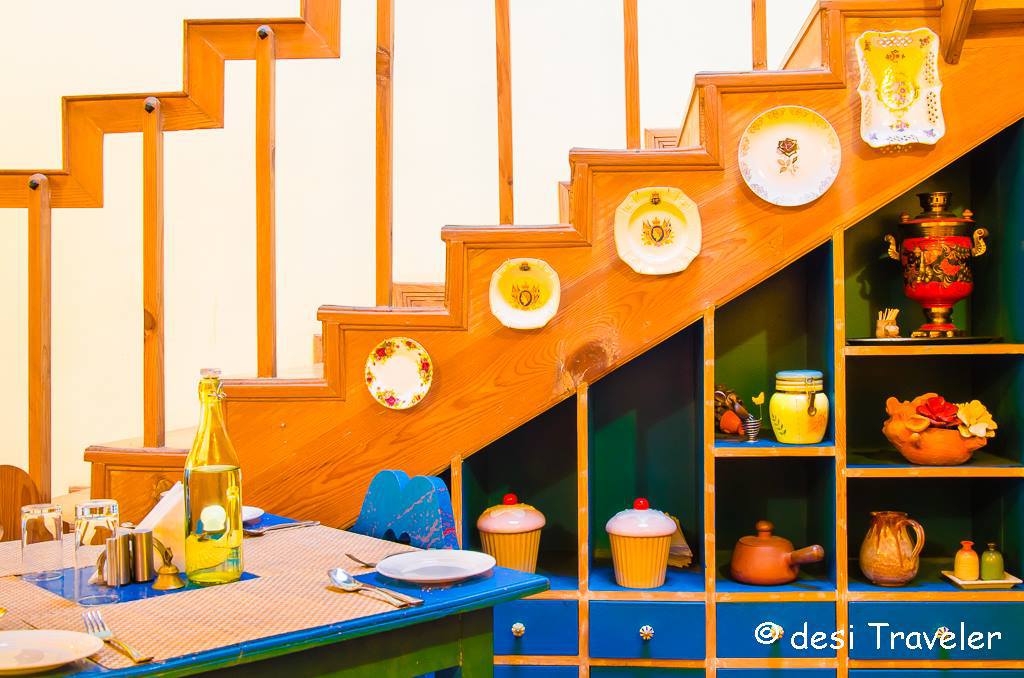 Sharing just one picture from Soulitude in the Himalayas Hotel Gagar, Nainital
I spent the evening looking at the snow-clad peaks of Nanda Devi, Trishul, Panchachuli, Pindari Glacier, Nandakot, Nandaghunti and Kamet. This was first time I had crossed Nainital in Kumaon and it was an eye-opener how just going a few KM from tourist hot spots can make a difference in everything around you. No 24 by 7 honking of cars, no loud music coming from the newly build disco.
On the contrary we had some awesome view of pines and Cedars forming a green cover on the slopes below before giving way to the horizon that merged into the snow-white peaks.
Our location was remote but our abode Soulitude in Himalayas had all the comforts that you expect from a luxury property, and some more. I have never seen so much attention to detail in designing a hotel. From placement of windows to geysers to making sure you have light switches within your reach to every room giving a bird's eye view of the surrounding hills. But I did not spent much time in the room for I was too keen to photograph the surroundings.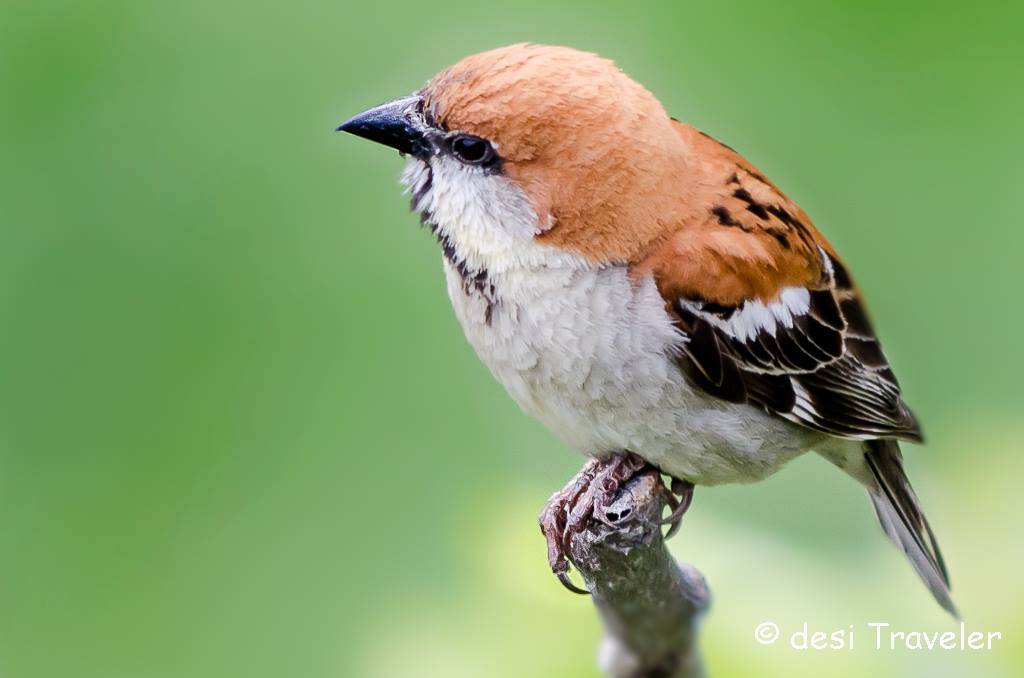 Can you name this little sparrow ?
I woke up in the morning by melodious bird-songs emerging from a branch that just ended in my room balcony. I decided to stay put in my room and got ready with my camera. Here is one of my favorite bird pictures that I clicked with my Nikon D 7000 and 55-300 mm Nikkor lens.
Spared by many touristy types, Gagar has its own claim to fame, close by on a hilltop in Ramgarh Rabindranath Tagore is believed to have penned his Noble Prize winning poem – Gitanjali, and another luminary of Hindi Literature Mahadevi Verma lived in Ramgarh. Those of you closely following the Cow and Beef related controversies should read her heart piercing short story – Gaura. (Good luck searching it on the internet though)
While I will write about the Solitude in Himalayas later in detail, let us continue to our next destination Kausani some 4 hours away. But the beauty of serpentine roads of Himalayas is that you have no idea what surprise will unfold at the next bend in the road. Would you encounter a shepherd or a line of women almost invisible under the huge pile of fire wood or fodder they are carrying for their cattle? Sometimes you see a tea shop and decide to enjoy some hot extra sweet desi Ginger Chai.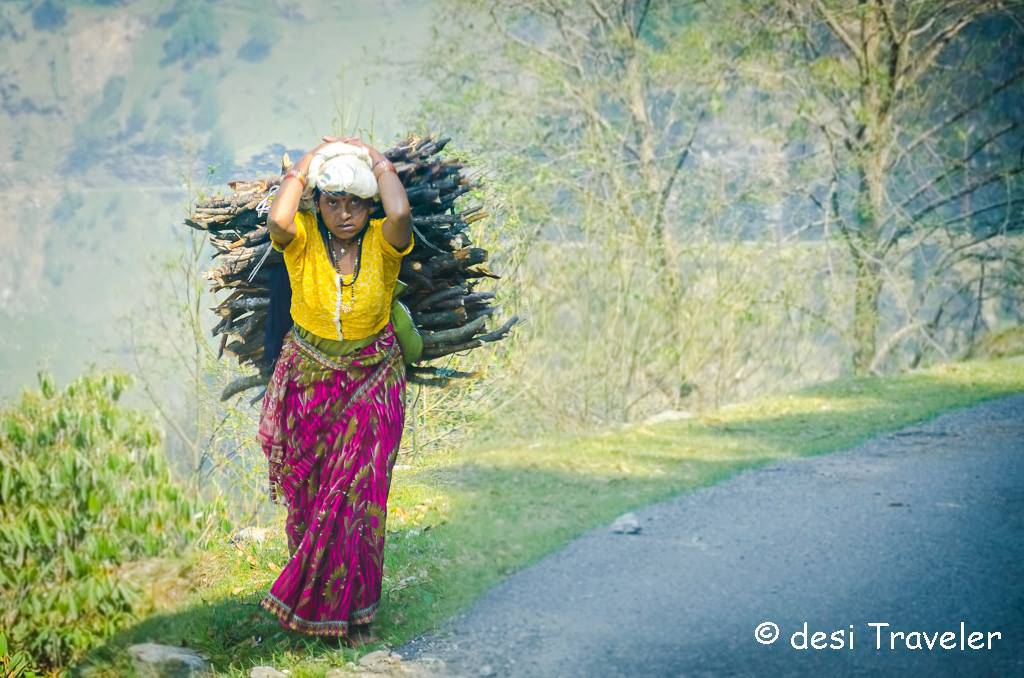 Woman carrying fire wood
These breaks on these roads add to the joy of the journey and initiate conversations that convert strangers into friends. (More on this in a coming episode).
But one of the best break I had on this trip was what I had named as Jacaranda break. You see Jacaranda Mimosaefolia is actually a native of Brazil but now widespread in parts of India including Kumaon. In most parts of Kumaon Himalayas you will find naturalized as well as planted Jacaranda trees. And boy these are some handsome specimen of Jacaranda, none of the stunted growth and apology of a bloom you find on the Jacaranda marg in Gurgaon, but these Kumaoni Jacarandas are a feast for the eye. When we saw a few of them proudly displaying their blue flowers we could not help but stop our cars and click the trees from every possible angle. The limited traffic on the road helped us in getting our fill of the Jacaranda break before we moved forward.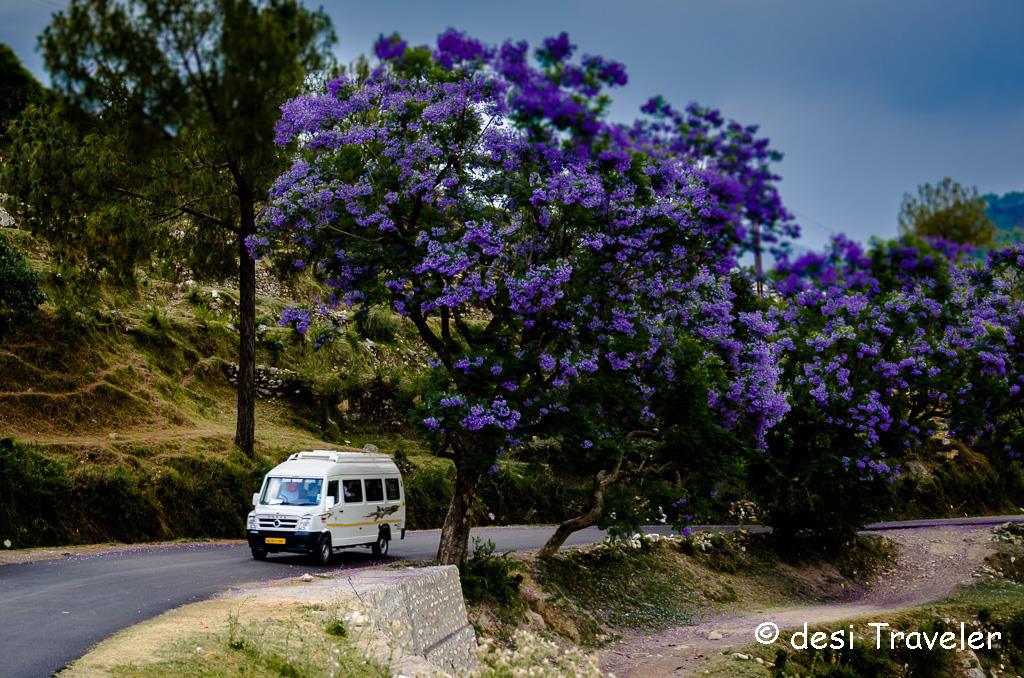 A Jacaranda trees make you stop your Road trip in Kumaon Hills
But like I said the Jacaranda break was only one of the best breaks during Road Trip to Kumaon we had. The best break during the road trip was on our journey from Kausani to Munsyari . Munsyari was the highest town we visited during this trip. We took 3 memorable breaks during the 165 KM journey between Kausani to Munsyari in Pithoragarh district . that took us around 8.5 hours. The first was our scheduled lunch break at the Kumaon Mandal Vikas Nigam guest house at Chaukori.
Chaukori is the Kumaoni version Tea growing areas India, carefully nurtured during the Raj to grow the favorite brew of the Gora Sahibs. Devoid of any traffic and pollution we had a memorable lunch literally under a tree, while some mountain mynahs played orchestra hidden in its canopy. Like I said this was the best break in our Road trip in Kumaon. But a close second was not very far off from this lunch in Chaukori KMVN guest house.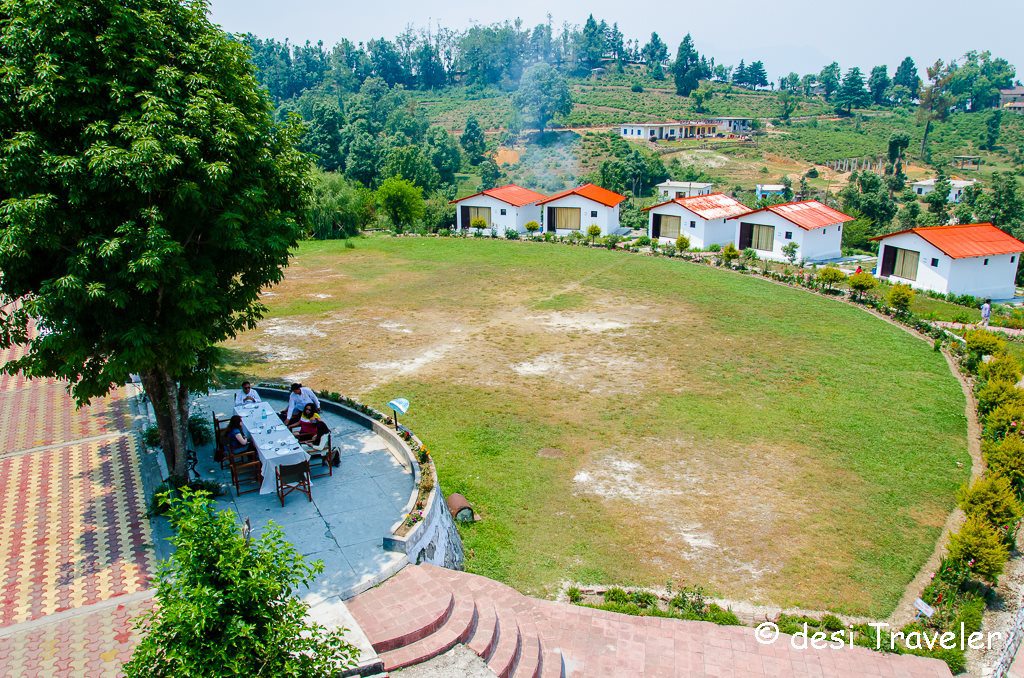 Lunch under a tree in Chaukori on way to Munsyari
As we continued towards Munisyari, we were following the Ramgana River, flowing in the valley next to the road. Sometime we will see the vast expanse of the river challenging boulders and at other points she will vanish into the dense foliage and the only sign of her presence was the gurgling sound of the fast flowing water. Finally we saw a point where the river water was shallow and we could walk down to the river bed. Within a minute we were all holding hands and trying to keep our foot from slipping on the slippery rocks at the river bottom.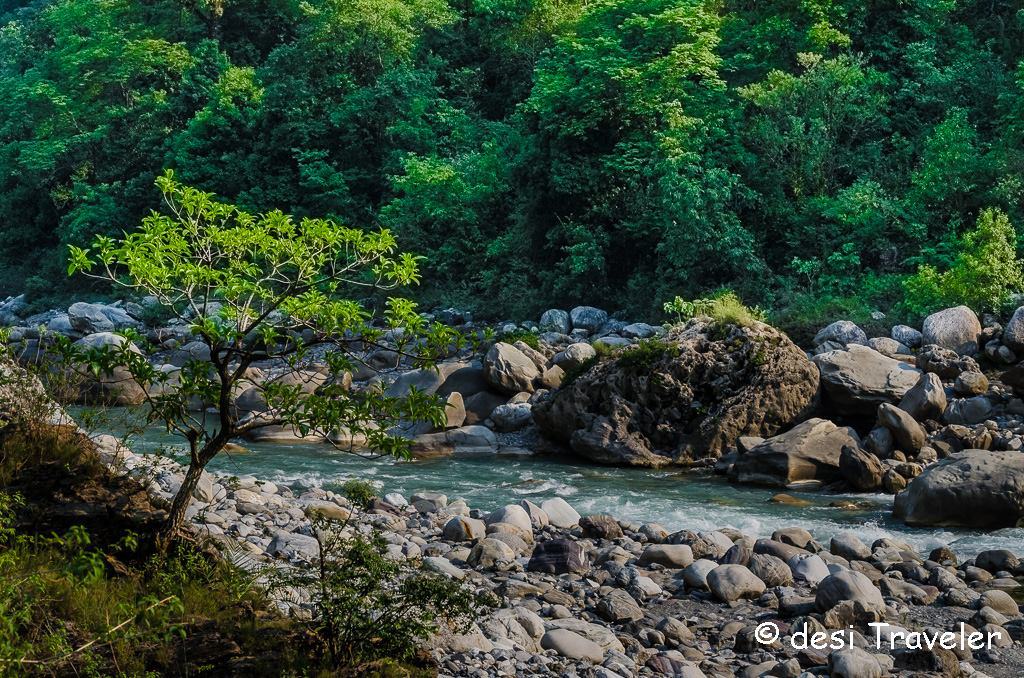 A picnic spot on Ramganga River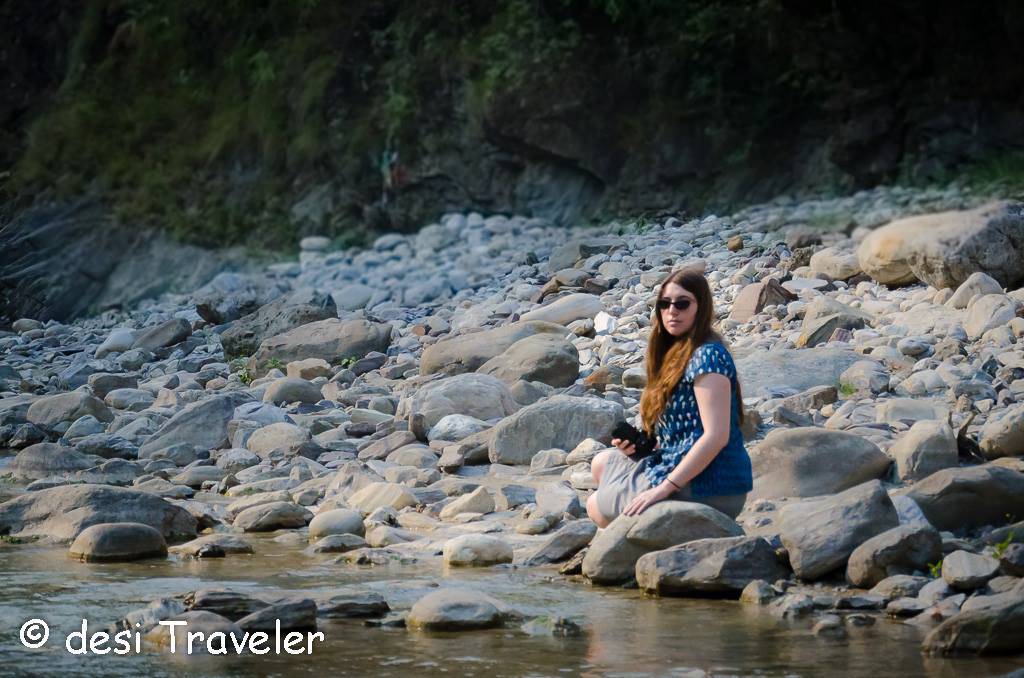 One of our group members relaxing on the banks of Ramganga river on way to Munsyari
As I splashed the cold water on my face, my tired eyes opened wide and I automatically laughed like a like a kid as the water touched my face. We spent some good time clicking pictures here on the river bank carefully holding our cameras even as we ventured deeper into the water.
But let me tell you it was a calculated risk and I moved my steps only once I had a firm grip. Would I recommend you to do it? To tell you the truth, if we were not in a group and supported each other as we slipped I would have not done it EVER on my own.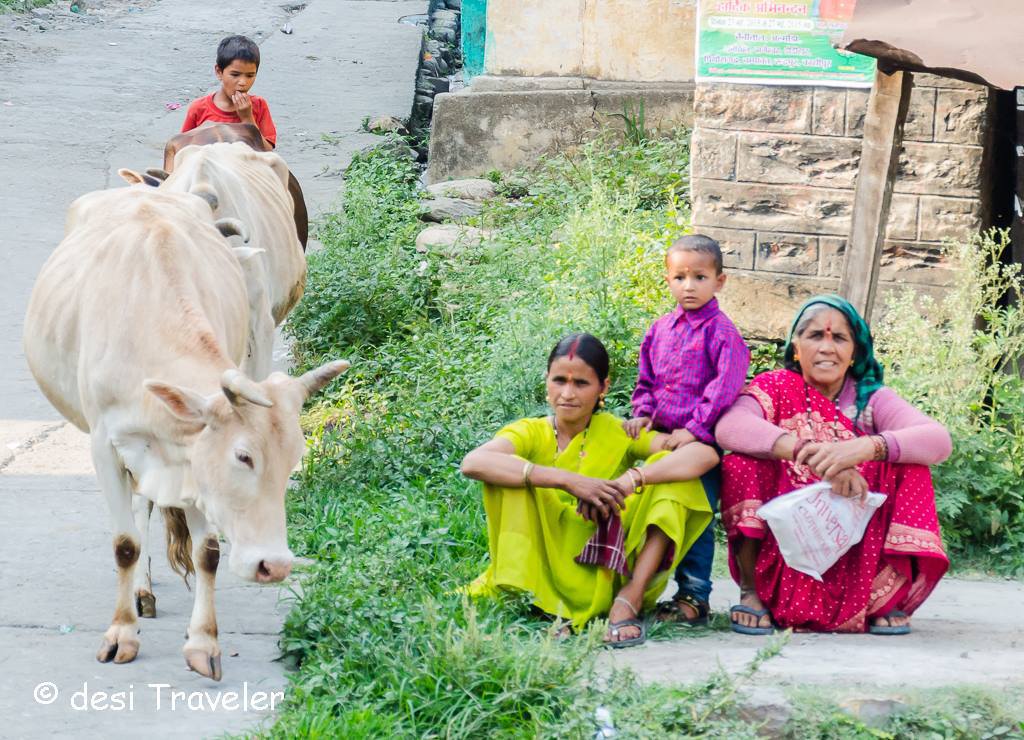 Holy Cow and some women in a village in Kumaon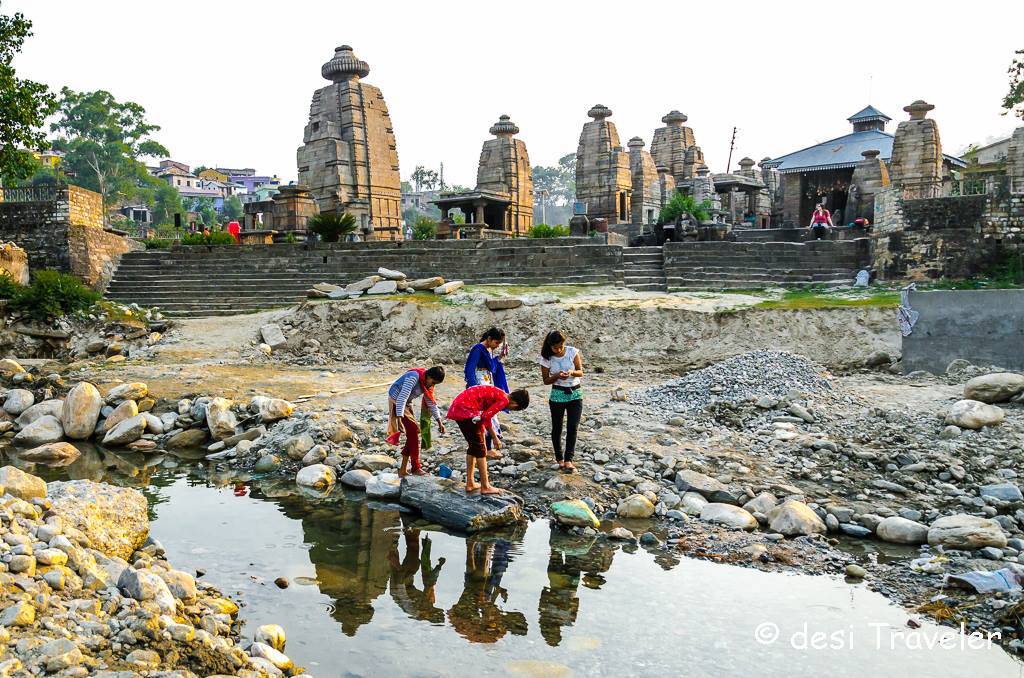 Kids playing at riverbank near Baijnath Temple near Kausani Kumaon
One of the things that I noticed here was a lot of Palm trees growing on the sun facing cliffs, now if my botanical knowledge is correct Palms are tropical trees surviving in hot humid environments.
So what were these palm trees doing in Kumaon? And how did they reach in such high Himalayas ranges? Will cover this in a future post.
As we continued our journey towards Munsyari , the sky became overcast and we could see sun playing hide and seek in the clouds, this led to the third break on that day during our Road Trip to Kumaon. But that dear reader will come in the next post in my Road Trip to Kumaon Series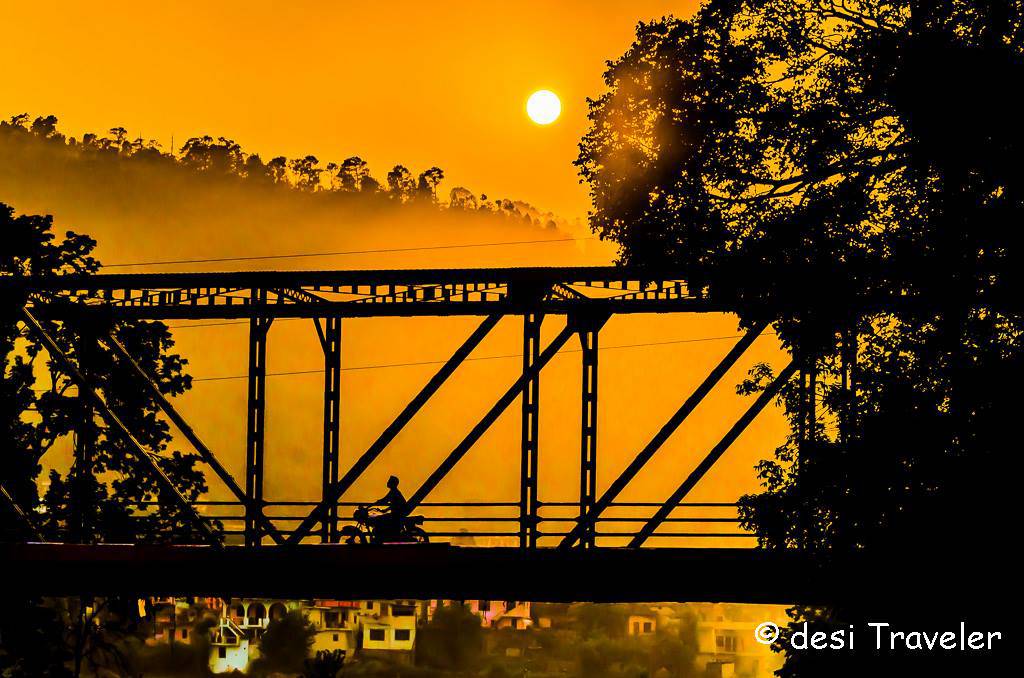 Sunset in Kumaon over a little bridge
desi Traveler

India Travel Blog. Family- Food- Photography