Deep in the Kumaon hills in Uttarakhand, a quiet resort at the riverside village of Chanfi periodically plays host to Amarrass Records Music Tour, a unique three-day intimate baithak style festival featuring qawwali and other traditional Indian music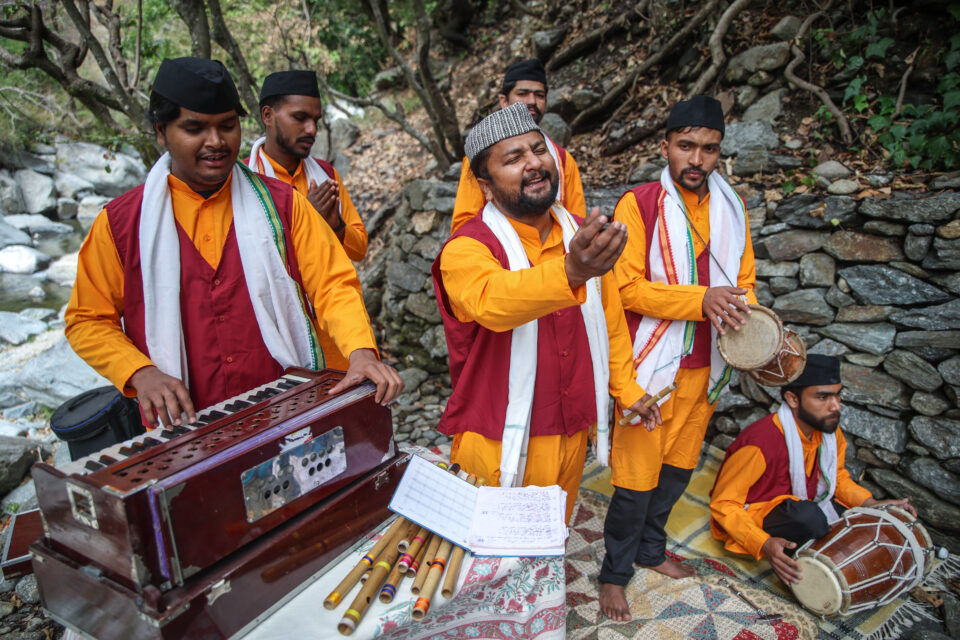 The chilly breeze is kept at bay by a warm bonfire that dances to the harmonium and handclaps. The instrumental introduction is followed by a majestic vocal line, as 27-year-old Sarvjeet Tamta begins the Amir Khusro-penned 'Man Kunto Maula'. The Kumaoni hills are alive with the sound of qawwali.
For over two hours, Tamta's group Rehmat-e-Nusrat enchants the select audience at the Soulitude By The Riverside resort in Chanfi, a short distance from Bhimtal in Uttarakhand. In keeping with their name, most of the repertoire comprises songs popularised by late Pakistani legend Ustad Nusrat Fateh Ali Khan. Over two nights, their performance is part of the new Amarrass Records Music Tour series. On one of those afternoons, the same group is rechristened HimaliMou, choosing a selection of Kumaoni folk tunes.
The tour is the brainchild of Amarrass Records, formed in 2010 by Delhi-based Ashutosh Sharma and Madison, Wisconsin-settled Ankur Malhotra. The company first gained attention when it released an album by Rajasthani folk project The Manganiyar Seduction, based on Roystel Abel's musico-theatrical production. They also worked with Rajasthani musicians Lakha Khan, who sings and plays Sindhi sarangi, and Padma Shri awardee Sakar Khan, who played the bowed string instrument kamaicha.
Later they backed the Barmer Boys, who even performed at Denmark's Roskilde Festival on the same day as the Rolling Stones and hip-hop duo Outkast. The label's albums include Kesariya Balm by Barmer Boys, and Dubfounded by electronic music producer Ravana and folk poet Jumme Khan. And starting in October every year the company also organizes Amarrass Nights, a monthly event devoted to traditional Indian and fusion at Sunder Nursery near Humayun's Tomb in New Delhi.
Sharma says the idea of the Amarrass Music tour came about a decade ago, when they realized there were many talented musicians who did not perform at the bigger festivals. He adds, "Some like Sakhar Khan could not travel because of age and health issues. So, we thought of taking the audience to the artiste, in small groups, and giving them a complete experience. We wanted to begin with Rajasthan, but the pandemic happened, and things got postponed."
The idea of starting a musical tour in Uttarakhand came after Sharma met Tamta, who grew up in Almoda, Uttarakhand. Initially, he thought Tamta would do only folk music, and was thus surprised when he realized that his main focus was qawwali. He was such a fan of Nusrat that he even named his group Rehmat-e-Nusrat as a mark of respect. The group signed up with Amarrass Records in 2019 and has performed at the Amarrass Nights.
he site chosen for the music tour is the Soulitude Resort at Chanfi. It is a peaceful place perched in the middle of hills bathed in greenery, and one has to trek a kilometer on rocky terrain from the nearest vehicle-access area, making it perfect for the adventurous lot. The nearest airports are Pant Nagar and Bareilly, and if one comes by train, one has to get off at Kathgodam, at the foot of the Kumaon hills.
To add to the idyllic location, the resort runs parallel to the river Kalsa, whose constant drone is like a tanpura at a concert. In the mornings, the sound of the stream and the birds do a musical duet in the nippy air. Special masalas and pear and kiwi jams lace the Kumaoni spread cooked by the in-house chef. As darkness takes over, Tamta's charming voice makes the qawwali soar to magical heights, but only after he has personally cooked mutton and dal for the audience. If listeners like music and food, play on.
The first evening begins with the shabd 'Mitr Pyaare Nu', Intense ghazals are converted into handclap-backed, rhythm-filled qawwali – Mirza Ghalib's 'Har Ek Baat Pe Kehte Ho' on the opening night and Faiz Ahmed Faiz's 'Aaye Kuch Abr Kuch Sharaab Aaye' the following day. A 40-minute version of the Nusrat-popularised bhajan 'Saanson Ki Mala' is a highlight, and a snippet from the Parveen Shakir-penned 'Poora Dukh Aur Aadha Chaand' brims with poetic magnificence. One senses the faint aroma of barbecue from a distance.
The following day, the Kumaoni folk set by HimaliMou features hill songs known as jhoda (an entertaining song for working classes), niyoli (songs of separation) and chapeli (tunes for dancing). The harmonium and different types of wooden flute provide the melodic accompaniment, and the dholak and hudka hand drums provide the rhythm, along with handclaps.
Kumaon is one of the divisions of Uttarakhand, and the main towns are Nainital, Bhimtal, Almoda and Bageshwar in the hills, and Haldwani, Pantnagar and Rudrapur in the plains. Though Kumaoni folk, rooted in different regions, forms the bulk of the setlist, the group also plays tunes from the Garhwal area of Uttarakhand, and Nepal, from where many have migrated for work.
Growing up in Almoda, north of Nainital, Tamta was exposed to a lot of Kumaoni and Nepali music. His father was a government teacher who loved to play harmonium as a hobby, but they didn't own the instrument at home. The youngster, however, began singing early, and won many school competitions. The turning point came when he heard a recording of Nusrat's 'Sannu Ek Pal Chain Na Aawe'. He recalls, "I must have been 14 or 15 then, and my first impulse was to watch his live performance. It came as a shock when I found out he passed away in 1997."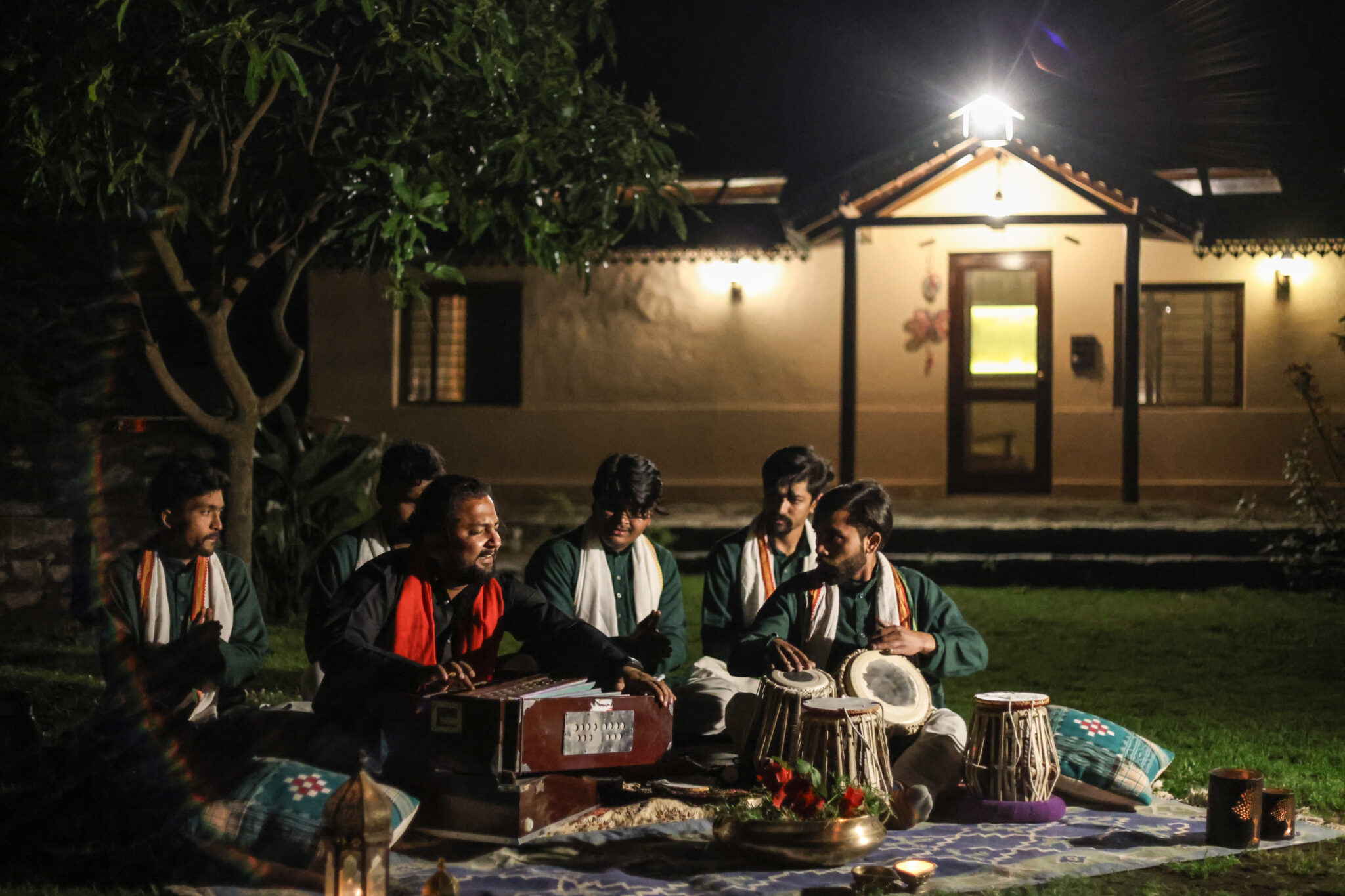 Photo: Courtesy of Amarrass Records
Tamta spent a few years learning qawwalis by Nusrat and other artists like the Wadali Brothers. "I had to learn the nuances of poetry and diction, and familiarise myself with ragas. I had to learn the true meanings of words to express them with more feeling. But my father did not buy me a harmonium. He wanted me to become an aeronautical engineer," says the singer. Leaving home at 16, he taught music and art in Pantnagar, and traveled around to meet singer Pooran Chand Wadali and Manganiyar artiste Fakira Khan. He formed Rehmat-e-Nusrat in 2014, but it took them six years to make it big on the concert scene. Besides Amarrass nights, they have performed at the Jaipur Literature Festival and Arunachal Pradesh's Ziro Music Festival.
"Rehmat-e-Nusrat's style is perfect for the music tours in Chanfi. There's a certain 'rooh' in Sarvjeet's singing that makes him special. And his knowledge of local folk music is an asset," says Sharma of Amarrass Records, who plans to make this a monthly three-days-two-nights package. The resort has seven rooms, and thus the idea is to have a compact unit of people who love music and travel, and also want a peaceful ambiance. "They can also interact with the artists, chat with them and sing along, and learn about local delicacies," he says.
Sharma, who also runs a travel agency in Delhi, plans to create awareness of the Chanfi tour through the audiences attending his shows in Delhi, besides approaching his regular customers. In October, he plans to take the tour to Rajasthan desert areas, where folk songs will be clubbed with local cuisine.
The Chanfi experience leaves us on a high. The best thing is that there are no formalities, as after the main performance, the musicians and audiences converse about assorted subjects. One doesn't realize that something's simultaneously going on in Tamta's mind, but he suddenly heads back to the harmonium and summons the tabla player. Impromptu, he sings a qawwali variant of the Noorjehan hit 'Chaandni Raatein'. The others find a sofa, joining in the backup vocals and taalis. It's turned cloudy by then, and there's a damp shiver in the air. But his singing makes you imagine you're under a clear moonlit sky, staring in awe at silvery trees as you hum, 'Chaandni Raatein.'