Located at an altitude of 1,938mts above sea level, Nainital derives its name from Naini Lake, a prominent tourist spot of Nainital. Nainital is located in the Kumaon region and is popularly known as the Lake District of India.
Nainital is a famous tourist destination of India, attracting hundreds of both domestic and foreign tourists every year. It shines as a glittering jewel in the Himalayan Mountains and is surrounded with lakes and nature's bounty. Some of the important places in the district of Nainital are Haldwani, Kaladhungi, Ramnagar, Bhowali , Ramgarh, Mukteshwar, Bhimtal, Sattal and Naukuchiatal.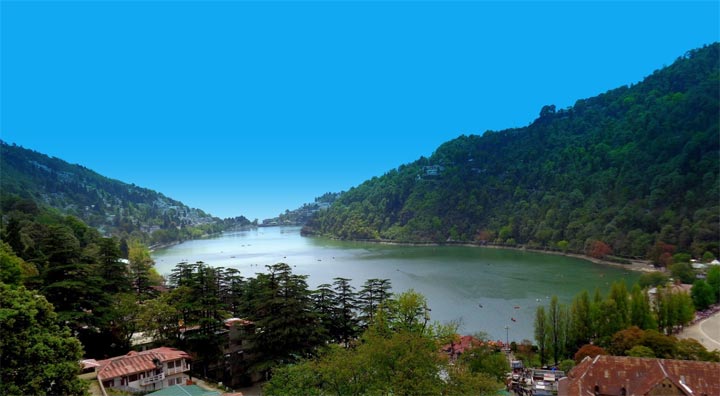 The Mall Road, Nainital Traffic Rules
Timings for Traffic
Entry of Traffic is Prohibited during the months of May, June & October
Category Timings
Shops Open & Closing Time 9:00 am to 10.00 pm
Heavy Vehicles 8:00 am to 10.30 am & 2.30 pm to 10.30 pm
Light Vehicles 6.00 pm to 10.00 pm
Cycle Rickshaw 6.00 pm to 9.00 pm
Parking is strictly prohibited on the Mall Road except some designated parking places with in Nainital.
Note: Traffic shall be strictly prohibited on Mall Road between 6:00 pm – 9:00 pm during season. Only one way route from Tallital to Mallital for LMV
Nainital is famous for the Naini Lake where it is believed that Lord Shiva performed his tandava. The Naini peak or the China peak is the highest in Nainital with a height of 2611mts. Some of the other places of tourist interest are the Mall, now known as the Govind Ballabh Pant Marg. You can find restaurants, offices and hotels all located in the Mall. Nainital Zoo is a very important tourist spot where you can find rare species of snow leopard, steppe eagle and the Himalayan black bear. The Governor House of the Raj Bhavan with its sprawling gardens is one of the few Raj Bhavnas open for public viewing. Nainital's latest attraction is the Eco Cave Garden where your children can learn about ecosphere.
Nainital is also famous for its various schools and research facilities. The Observatory or the Aryabhatta Research Institute of Observational Sciences (ARIES) is located 9kms from Nainital on Manora Peak and is the center for astronomical studies and optical tracking of artificial satellites. It also proudly houses many renowned schools some from the British period. Important and famous schools in Nainital includes Sherwood College, St Joseph's College, and Sainik School. Nainital is also one of the campuses of Kumaun University.
Nainital Climate and Weather
Nainital enjoys a temperate climate with the maximum reaching 27 degree C and the minimum at 10 C.
Nainital is about 22 km from Soulitude in the Himalayas. It takes around 35-40 min to reach there. The directions to reach there are given below in the map.
Content Credits: www.euttaranchal.com