Mukteshwar is a pleasing destination situated at an elevation of 2,285mts above sea level in Nainital district of Uttarakhand state. Mukteshwar got its name from a 350year old temple Mukteshwer Dham whose residing deity is Lord Shiva. The top of the mountain on which Mukteshwar Temple stands offers astonishing and marvellous views of the imposing Himalayan range.
Mukteshwar was developed by the Britishers as research and education institute (IVRI) in 1893. Perched atop a hill in a remote corner of Kumaon hills, Mukteshwar is bounded by fruit orchards and coniferous forests.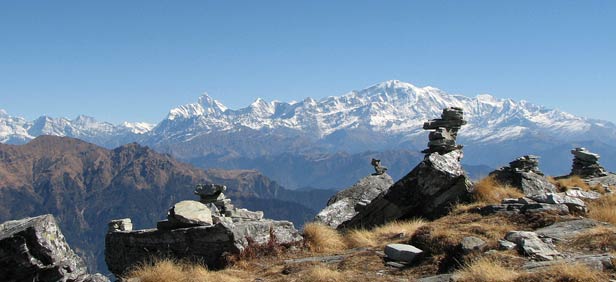 Mukteshwar offers distinctly visible 180 degree views of the majestic Himalayan range. The beauty of Mukteshwar is unpolluted and unaffected till date and accommodation options are growing here. It is believed that Lord Shiva killed a demon at this spot and he granted him salvation or mukti.
The unspoiled beauty of Mukteshwar has a lot to offer. Wake up with the chirping of birds and sun rays kissing the cliffs and enjoy short treks in the woods. Jim Corbett, the world renowned hunter and nature lover came to shoot a tiger here and fell in love with its natural beauteousness.
Nanda Devi, Nanda Kot, Nandaghunti, Trishul and Panchachuli are the major peaks visible from Mukteshwar. One one side Mukteshwar is covered by dense forest and on the other side it offers splendid view of the enchanting valley and the Himalayas.
Mukteshwar is about 27 km from Soulitude in the Himalayas. It takes around 45 min reach there. The directions to reach there are given below in the map.
Content Credits: www.euttaranchal.com