Mini Mathur On Diving, Travelling & Her 8 Hands
What's your home away from home?
'Soulitude by the Himalayas' and 'Soulitude by the Riverside'! These are not just my summer havens but these are the places where I want to be when the world ends.
She went for a diving certification on her honeymoon, she took off for the rainforests of Malaysia six months after delivering a baby, she has binged on fried insects and bugs with fellow co-hosts. Here's presenting the ever so charming, hot and adventurous Mini Mathur, our next in the series of Celeb Travelogues!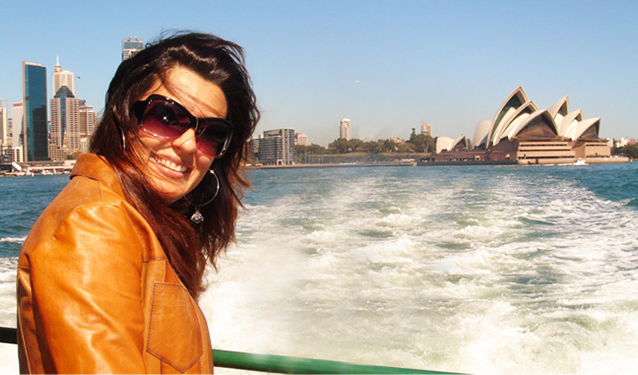 Before I could even finish completing the questions from my long list, she would have just the right answers ready. That's when you know you're interviewing a TV anchor with oodles of experience and contagious energy levels. Traveller, adventurer, writer, interior designer, wife, mother, friend and of course, a successful TV professional…she says she is an octopus with eight working hands. She loves doing a little bit of this and a little bit of that and in Mini's words, 'Once toh everything banta hai'. Let's find out more…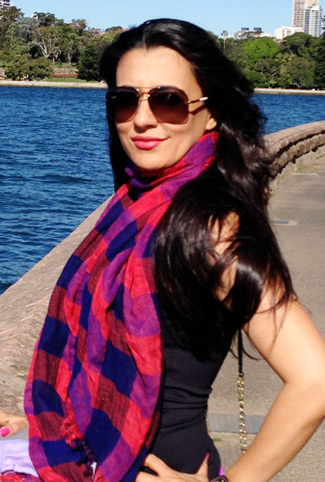 As a popular TV anchor, what took you travelling?
What took me travelling was 'Indian Holiday' – one of the first travel shows that India actually had.
Are you the adventurous kind?
I had a fairly sheltered life before I met Kabir (Mini's film director husband). But it actually helps being married to a guy who absolutely loves adventure.
What's the one adventure sport you are scared of?
I am scared of heights. I have never done sky diving; I can't even bungee. You take me down an ocean, I'll go, but heights are just not my thing.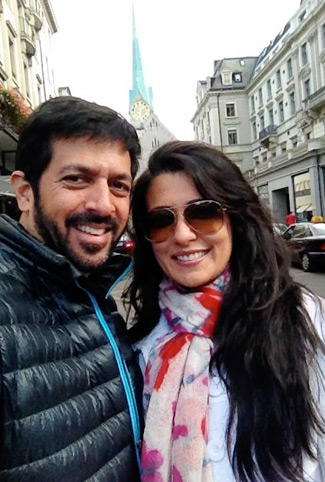 When you were dating Kabir, he used to send you postcards from his travels. What was so special about it?
That time he was trying to impress my dad and postcards would come without envelopes. I used to wonder if this guy is a little boring because he was sending postcards from very exciting places talking about the history of this country and that Nehru once visited that place. Obviously, there was a catch because my dad used to go through all of these postcards and think that he's such a nice guy, knowledgeable, has travelled the world and sending us notes on world history. Those postcards are my most priced possession. It was a subtle strategy, but boy it worked in our favour (she chuckles).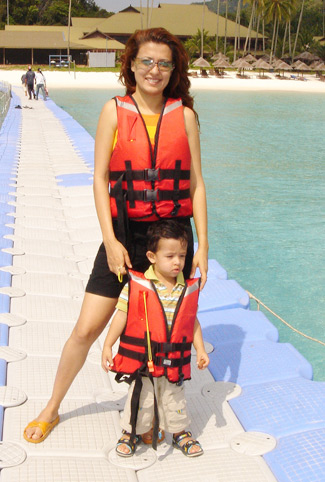 You went diving for your honeymoon. That's strange!
Yes, indeed! We went to Philippines and did our diving certification instead of going to some koochi koo destination. We sat and wrote exams while other honeymooners were having candle light dinners.
Any bad experiences while diving?
I remember once we were diving in Maldives. Kabir was my buddy and he was at a higher place than me. But somehow, we couldn't see each other. FYI, you always dive in buddies. If you lose your buddy, it's a serious thing. By the time he saw me and came down, the oxygen tank had completely knocked me out. I got hit on the head. Luckily we got out together. However, I didn't let that bow me out of diving.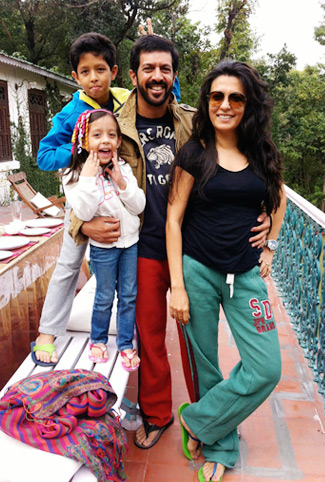 What's your home away from home?
'Soulitude' and 'Soulitude by the Riverside' in the Himalayas! These are not just my summer havens but these are the places where I want to be when the world ends.
Have any bizarre food experience to share?
Lots! But I'll quote one from China. There you can't read anything on the menu and they refuse to help you with English (because they don't know English). We went to Shanghai and ordered a chicken soup. What came was a big black pot; we enjoyed the soup a lot. But, in the end, to my shock, I saw a dead chicken in the pot with feathers, eyes, claws, every part of it and I was completely freaked out by the creepy look of it.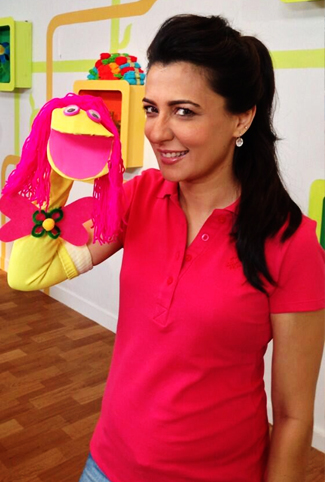 What's something you can never eat?
I have eaten oysters, snails, fried insects, bugs, bees. Once toh everythingbanta hai. What I can't get myself to eat is snakes, monkeys and rabbits.
You are quite an interior designer with a beautiful home that has a Greek-Mediterranean touch. Reasons?

I try to pick up things from different countries and incorporate it in the house. While it started off being Mediterranean, I got very influenced by Victorian interior designing. So my tea room is Victorian; my terrace is very Mediterranean; my study is Indian; and, my bed room is Bali inspired. There's no one theme running through the house. Everything is imperfect but the idea is, you love where you live.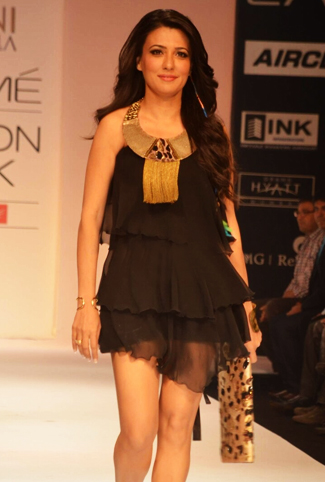 What's been your most challenging travel expedition?
It would be the show called Is Jungle Se Mujhe Bachao that took me to a rainforest. We were telecasting live from the jungles of Malaysia. It was in the wilderness and I had all kinds of extreme experiences. We had to climb down 280 stairs, take a river boat at 5:30 in the morning, get to a deeper part of the jungle, climb up 600 stairs or a mountain to get to the place where we would shoot our anchor links.
I had just delivered my daughter then, she was only six months old and Kabir had just finished New York when he said he would take care of our daughter. I actually spent two months away from my new born because the show was just so fulfilling.
Your five favourite diving destinations.
We go for a diving trip every year. Infact, I have introduced my son also to the world of diving. My top 5 diving destinations would be Great Barrier Reef, Dead Sea, Phillippines, Maldives and Andamans.
When booking a hotel, what do you keep in mind? And, what kind of hotels do you prefer to stay at?
Whenever I book a hotel, I first see the location. Once I know it's in the heart of the destination (I don't like suburban areas), I am on. But it varies from one place to another. Like if I'd stay in Rajasthan, I would like to stay the royal style and opt for heritage and history; if I go to Kashmir, I'd stay in a houseboat; If I go to Goa, Taj is by far my preferred choice.
RAPID FIRE!
Travel Pal (of course, besides Kabir): My friends Maria, Sandhya and Jaya
Favourite Cuisine: Japanese
Tips for an Indian traveller: Don't do chindigiri because you are representing the country
Dream Destination: North Pole
Favourite Travel Show: Highway On My Plate
Your Travel Mantra: Carry lesser clothes but tons of accessories
Travel Fantasy: Have an unlimited bank account and tickets to everywhere. I work only to earn and travel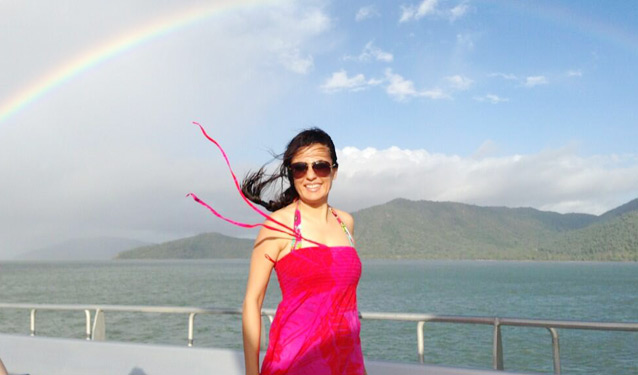 All pictures courtesy Mini Mathur
…………………………………………………..
Read the Article on Make My Trip Blog