Reviewed 06 June 2017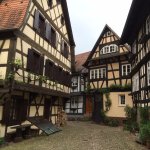 Bobby IND
Mumbai, India
The decor at Soulitude is breathtaking. So many artifacts and all so appropriately chosen to reflect a mountain get away.
We stayed at Nirvana. It's the best room at Soulitude for sure. Spacious for four of us couple with two teenage kids.
However there's some construction activity going on at the adjacent plot to the cottage which can get noisy. In addition the generator is also near the cottage which again is on quite a bit and makes noise.
Excellent views. Also loved the sky visible roofs at places.
Food is excellent. Though price of 750 per head for dinner is a bit steep.
Wifi connectivity is poor.
Coming to the staff which is just so warm, courteous and helpful and the real stars of this place. Led by the ever available Mr Prithavi and his team. God Bless you all.
There's nothing much to do around. Nice food at the local dhaba at Ramgarh market. Not just the samosas. In fact the food kadhi pakoda, paneer, etc was better and really tasty. You can get a local taxi to go to Ramgarh, not really walking distance. Market is barely ten shops.
From Delhi airport its an 8 hour drive incl 30 min halt.
Stayed May 2017, travelled with family