' Chand fir nikla magar tum na aaye
Jala fir mera dil karun kya mein haye
Ye raat kehti hai wo din gaye tere
Ye janta hai dil ke tum nahin mere
Khadi hun mein phir bhi nigahen bichaye
Mein kya karun haye ki tum yaad aaye
Sulagte seene se dhuan sa uthta hai
Lo ab chale aao ke dum ghut ta hai
Jala gaye tann ko baharon ke saye
Mein kya karun haye ki tum yaad aaye..'
• All of us are always racing towards happiness.
• It has become imperative for us to remain happy, whatever the cost.
• We put disproportionate effort to remain happy.
• We must appear to be happy, to the world at large and to ourselves.
• We shun sadness. We frown on it.
• Fact is, sadness will corner all of us at some time or the other. There is no escaping it.
So here is a moment, acknowledging and celebrating the sadness, heartbreaks, unfulfilled dreams, desires and ambitions in our lives !
And who better than the finest poets and the moon, to spend some sad moments with…poetry is penned by Majrooh Sultanpuri.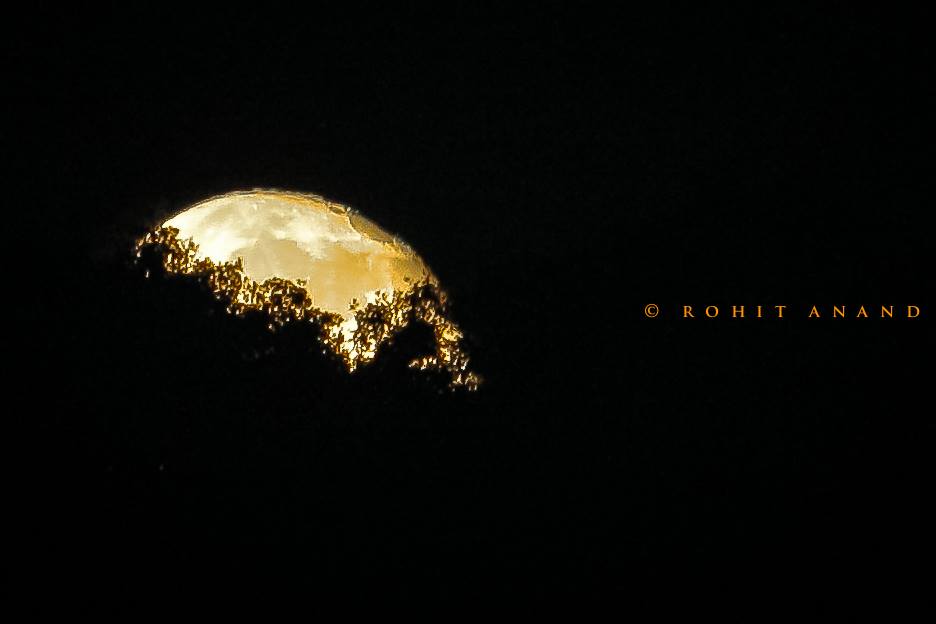 The full moon rises from behind the hills at Gagar, Ramgarh, Kumaon Himalaya, District Nainital, Uttarakhand. Hand held shot, 375mm, f5.6, 1/60 sec, ISO400, Cropped
11pm, 4th June 2015
View the original post and comments on The Himalayan Club's Facebook Page