Chaanfi: Stream of Consciousness and Conservation
While modern life is quietly eroding away the many natural bounties of Uttarakhand's Kumaon region, a remote riverside hamlet still feels like a rare exception.
Shikha Tripathi | POSTED ON: July 26, 2021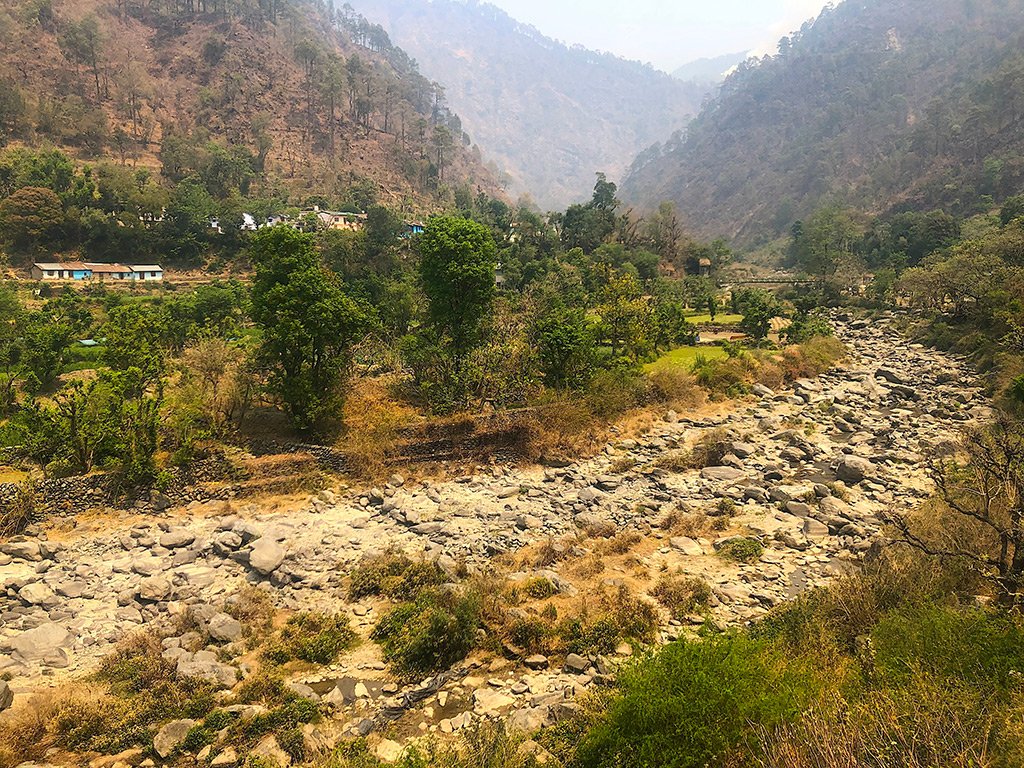 Chaanfi is set deep in a valley near Bhimtal, Uttarakhand. Photo by: Shikha Tripathi
In the 20 minutes that I've been waiting, I marvel at the bridge, called Jhula pul, perched calm over the Kalsa stream, content in its anonymity in an obscure village. Few tourists know of Chaanfi; a sleepy outpost in Uttarakhand's Kumaon, it is one people rarely take a detour for. Perhaps, this explains why it has taken me all these years to explore a place that's right in my backyard. Dinesh, my guide, arrives to interrupt my reverie and leads me to where I'm staying.
We lumber down the gravel-laden slope to the riverbed, and I take in the bridge one more time. Weeds twist out of cracks in its abutment and the roofs of the faded stone towers and arch, but the solid pier and foundation belie its age. In the 100-odd years of its existence, this man-made structure has outshone the natural elements around it; the stream has dipped to less than half this year due to scanty rainfall, and a thin film of smoke hangs in the air thanks to forest fires, a summer staple along with the plums and peaches Kumaon produces. At the bottom, we begin our 1.5 km walk along the length of the river. As the few houses on the hillside flanking the riverbed begin to dissolve into forest cover, I chat with Dinesh about life in Chaanfi.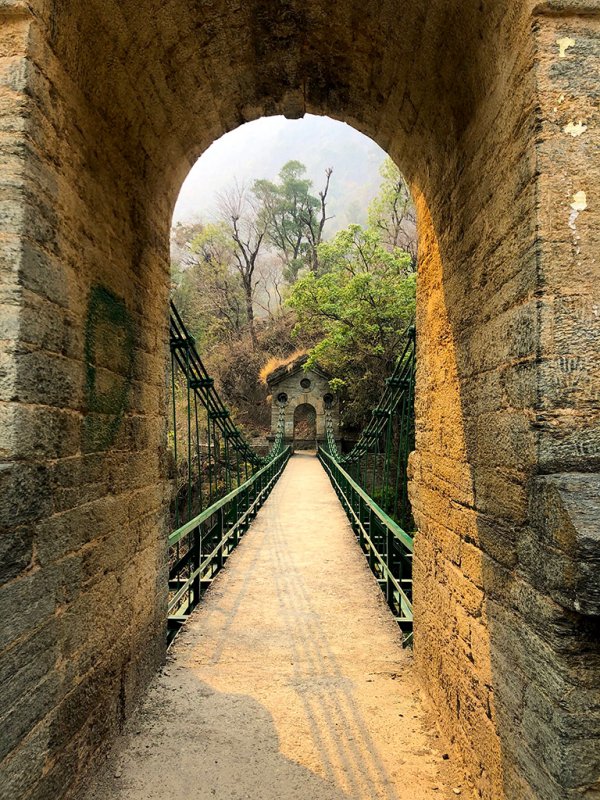 Set deep in a valley near Bhimtal, Chaanfi is but a settlement of agriculturists, cocooned between Kumaon's popular lake district. About 2,000 feet below Nainital, it's moderate climate and perennial water sources make it a fertile belt that produces native vegetable and fruit, and exotic varieties of flowers for export that have taken over the most famous produce of its heyday, the Chaanfi potato that locals love, including my mother. Its mention brings back memories of her younger days—when those roasted spuds were the cherry in a picnic hamper—just like the tall glass of malta juice, my welcome drink at my stay, brings back mine. I haven't had this citrus fruit, a local variety of sweet lime, in years; my brother and I used to slice and pull on it in the winter sun. Of the handful of accommodations in Chaanfi, Soulitude by the Riverside might be the only upscale one. But it merges seamlessly with the rustic charm of the village, embodying a sleepy quality that is endearing. The main cottage has three beautiful rooms complete with lipai, the local traditional mud painting of walls, an art lost today somewhere between urban designs and aspirational lifestyles of Kumaoni homes. My room is a short walk away, the path lined with beautiful lamps. On either side are rows of cabbage, broccoli, potato, and other veggies vying for space with walnut, fig and other fruiting trees.
Pushing the heavy door inwards, I walk into a space that ushers the earth in; red oxide flooring and bright curtains to compliment it, a colourful couch facing simple green doors and windows that frame the view outside and let in the brook's murmur. It feels fresh yet familiar; vintage switchboards and a wooden chest that remind me of my grandmother's house, jute mats used innovatively to line the cupboard window panes, and forest green door frames reminiscent of dak bungalows. The visitor footprint is thankfully minimal at this seven-room lodging. Copper bottles for water, soap in dispensers, cookies in glass jars, all add a drop to the sea of conservation that Chaanfi is surely in need of, as I gather on my evening stroll.
On a tour of the property, I tail Dinesh closely, straining to hear his muffled voice through his mask. It's summertime and the stream is nearly dry, though this was not the case the previous year. Toon trees mingle with pine, deep in dialogue with the understory of hisalu, kafal and other local wild berries. As we get closer towards the spring that is a water source for the village, the trickle gets thicker, and kingfishers, doves and bulbuls appear. Standing at the edge of the spring where it falls from a rock to form little eddies, Dinesh speaks of years past when water belonged to everyone. As temperatures rise and natural resources in the hills shrink, there is a proportionate rise in disputes over the reserves, and a steady decline in farming. Despite this, Chaanfi remains a blissful pool of idleness, with an Air Quality Index (AQI) far better than more popular places around.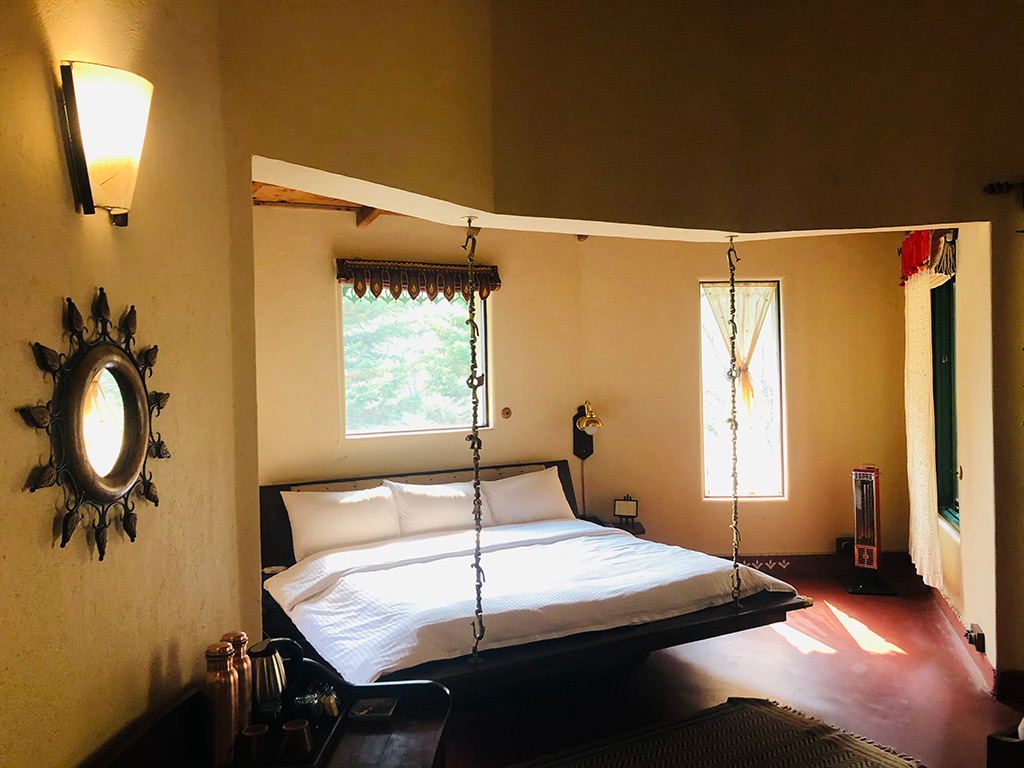 The rustic rooms at the property remind one of the dak bungalows of yore. Photo by: Shikha Tripathi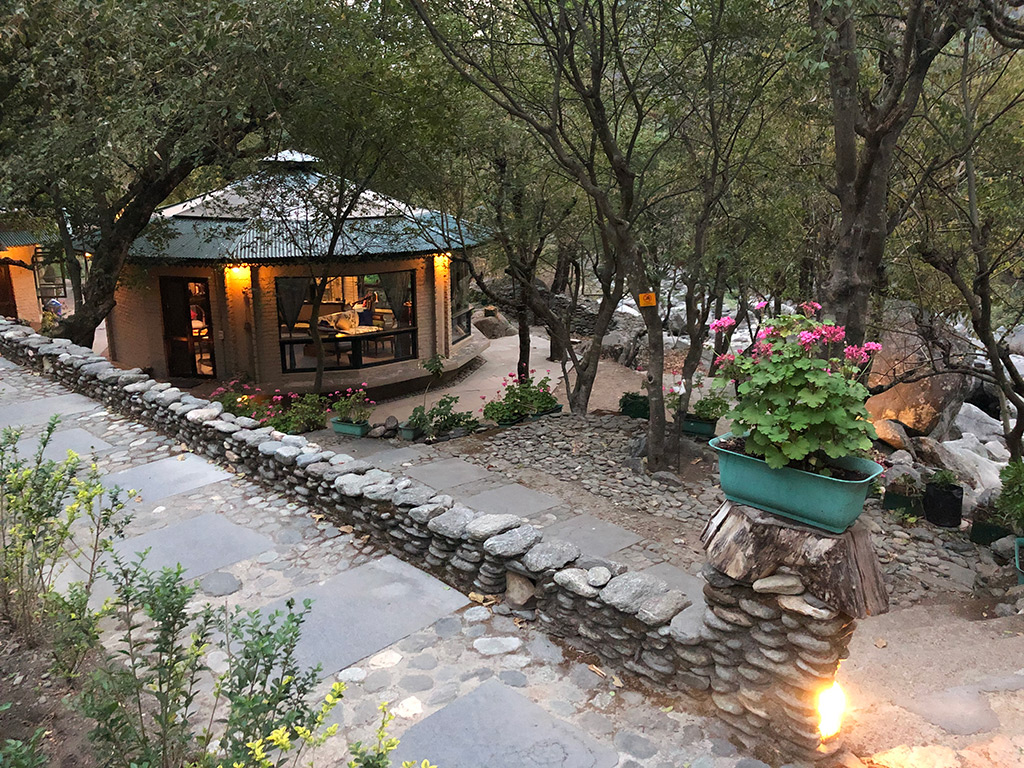 The secluded mountain lodge in Chaanfi where the writer stayed. Photo By: Shikha Tripathi
Back at my stay, I wrap up an early dinner. A fixed menu for every meal helps avoids wastage, and I steer past the usual suspects of paneer (cottage cheese) and mixed vegetables to design my eclectic meal of chana daal (horsegram lentils) with missi rotis replete with local flavour, followed by a decent crème brûlée. The morning after is clear with blue skies that have swallowed the last wisps of smoke, and I'm off on a trail to another waterhole. The path upstream is dotted with boulders, strewn across the slowly strengthening Kalsa whose waters grow stronger as Dinesh and I meander higher. A brown dipper leads the way this time, gliding over the now-gushing stream and bobbing up and down while also moving ahead.
The "waterhole" is, in fact, a tarn formed by the river in a place tucked away from prying eyes. Rocks rise all around like sentinels on duty, forming a sacred circle around this divinely beautiful pond believed to be inhabited by fairies, and casting an arc of shadow that's cooling to the skin and soul. I am shaken out of my stupor after nearly 45 minutes, when Dinesh indicates we are heading back. It might not be long before beer bottles start piling at this site and its cool waters begin to recede, but I hope I do not get to witness that time. I pack up, for all good things, including beauteous sights and potato crops, come to an end. Their memory, though, serves to lighten up a dull day.
…………………………………………………………………………………………………………………………………
Click here to read the original post on National Geographic Traveller India