Bhimtal is a picturesque lake located in the lake district of Uttarakhand state i.e the Nainital district. Bhimtal is perched at an elevation of 1,370mts above sea level. Named after the legendary Bhima of Mahabharata, Bhimtal is a beautiful lake centered amidst green mountains.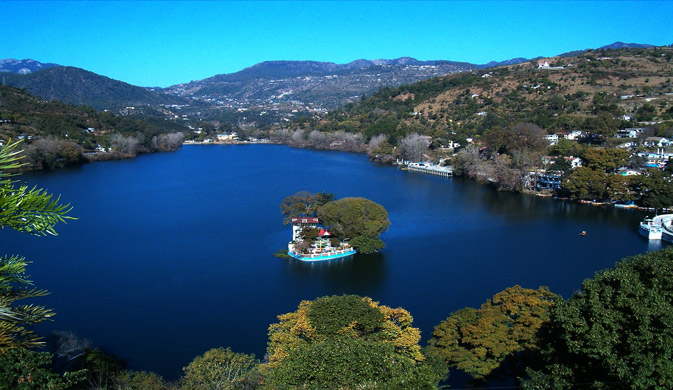 The lake is at a scenic spot with a small island at its centre on which there is a beautiful large aquarium called "Aquarium Island Cafe". Bhimtal affords splendid views and visual vistas of nature's beauty. There is an ancient Bhimeshwara Mahadev Temple on the banks of Bhimtal which was built by Bhima during the exile period of the Pandavas. The present temple was renovated by Baz Bahadur of Chand Dynasty in the 17th century.
Bhimtal is older than the Nainital city as it was once the part of the ancient silk route. The island amidst Bhim Tal is 91mts from the shore of the Bhim Tal. Bhimtal covers larger area than Nainital and thousands of tourists visit every year to enjoy the serene and pristine beauty of this place. Bhimtal is the favourite excursion of the travellers who visit Nainital and Haldwani.
Bhimtal, unlike Nainital as is a peaceful and quite place which adds charm to the stay at here. Bhim Tal provides ample water sport opportunities for amateurs with paddling and boating facilities.
Bhimtal is about 20 km. from Soulitude in the Himalayas.
Bhimtal Climate and Weather
The climate of Bhimtal is pleasant and salubrious during summers but very cold during winters.
Bhimtal Summers:     15c-28°c     Cotton / Light woolen
Bhimtal Winters:     4c-18°c     Heavy woolens