Clinging to a steep-sided valley, Almora is the regional capital of Kumaon, first established as a summer capital by the Chand rajas of Kumaon in 1560. These days you'll find some colonial-era buildings, reliable trekking outfits and a couple of community-based weaving enterprises. Don't be put off by the ugly, shambolic main street when you're first deposited at the bus stand – head one block south to the pedestrian-only cobbled Lalal Bazaar, lined with intricately carved and painted traditional wooden shop facades. It's a fascinating place to stroll, people-watch and shop.
Almora is famous for its alluring beauty, panoramic view of the Himalayas, rich cultural heritage, unique handicrafts and delicious cuisines. Perched at an elevation of 1,638mts above sea level the town of Almora is spread across a 5-km ridge atop Kashaya Hill. Almora district is surrounded by Pithoragarh to the east, Garhwal region to the west, Bageshwar to the north and Nainital to the south. The hill station is situated on a horse shoe shaped ridge of a mountain, the eastern portion of which is called the Talifat and the western one is known as Selifat.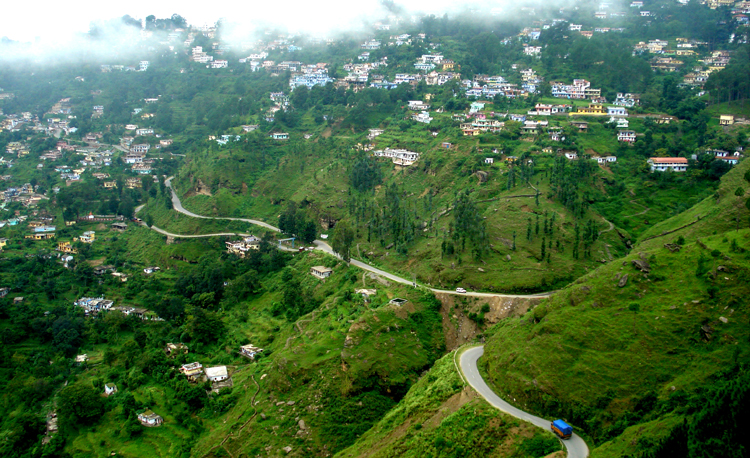 The picturesque landscape of Almora attracts hundreds of tourists each year as it is one of the business hubs of Kumaon region. Developed by the Chand Rajas  it was maintained and further developed by the British. Renowned Swami Vivekananda, meditated in this region and was in love with its clean air and pristine environment but now Almora requires attention regarding excess construction and cleanliness.
Chitai (Golu Devta) and Nanda Devi temple are the famous temples of Almora. Other important temples of Almora are Katarmal (an 800-year old Sun Temple), Jageshwar and Kasar Devi, built on a mountain peak near Kalimutt. You can also watch Apen folk-paintings and other treasures at the Govind Ballabh Pant Museum or catch a picturesque glimpse of the Himalayas along with the lovely Pine and Deodar trees at Simtola, 3 kms from Almora.
You can also enjoy the beauty of sunrise and sunset at Bright End Corner, which is 2 kms from Almora. It was here that Swami Vivekananda stopped en route to the upper Himalayas. Almora city has several shopping centres which also includes the 200-year-old Lala Bazaar. Almora is also popular for Angora clothes, made from Angora rabbit's fur and Almora's special copper vessels. Kathgodam is the nearest railway station for Almora while the nearest airport is Pantnagar.
Almora is about 46 km. from Soulitude in the Himalayas.

Content Credits: www.euttaranchal.com